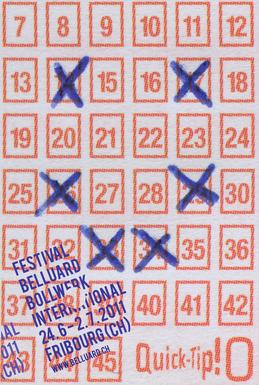 EDITO
Dear spectator,
When the Festival Belluard Bollwerk International launched the call for proposals 2011 under the title HOPE a year ago, it seemed urgent to us to develop a contemporary understanding of the word. We considered that hope situates itself in the eternal now, as a subtle driving force in every situation, relation and ethical set-up we commit to, rather than dreaming of a bloody revolution.
One year later the world has changed completely… However, we believe that hope is just that: something that changes all the time, that is intangible and that implies actions, revolutions and movement.
Running a festival like the Belluard Bollwerk International implies to never stand still, to advance constantly, to feel the pulse of time, which motivates us. There is a risk involved in what we do, in producing and presenting atypical projects, either in their form, or their content. . Even though - after 28 years - we are institutionalised, we like to think that we are still a 'small big festival' that stays close to actuality, at the level of society and the arts. Every year, the festival's programme allows us to receive a new league of artists and, with them, new ideas. For us, being 'hopeful' does not mean to accept the simple coherence of any activist position, we rather prefer to stay at the more undefinable level of unresolved poetics and questionings proposed to us by different artists from different backgrounds.
We hope you will enjoy the festival 2011.
                                                            
                                                    The Belluard Festival team