UNITED SORRY,

ERIK LEIDAL

& MARTIN SIEWERT

(Wien)



 
SERVICE AMBULANT DE

PREMIERS SECOURS MUSICAUX
 
Musical performance - Home made
City of Fribourg
25.6. – 30.6.
and also:
                         Saturday 25.6.   Guintzet   14:00 – 16:00
                         Sunday 26.6.   Swimming pool de la Motta  14:00 – 18:00
                         Tuesday 28.6.   Station  12:00 – 14:00
                         Wednesday  29.6.  Rue de Romont   10:00 – 12:00
Belluard
Thursday 30.6.   22:00 Concert
Free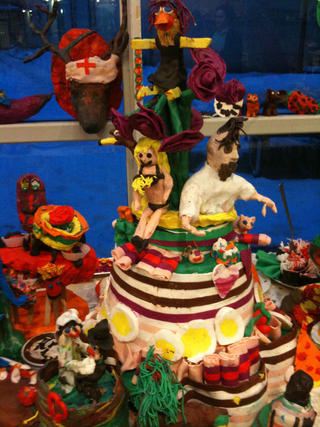 © Family Poelstra
An unconventional Mariachi band, two singing dancers and two dancing musicians, will roam the streets of Fribourg to collect private confessions, political statements and other burning desires of the citizens. Daily, the four contemporary bards will translate this information into roaring healing songs, all leading to a concert with one extended song at the end of their stay. Free your voice and the rest will follow!
 
www.unitedsorry.com
http://erikleidal.com
http://siewert.klingt.org
With: Erik leidal, Frans Poelstra, Martin Siewert, Robert Steijn; costume: Anke Phillipp; management : Andre Agterof, United sorry.
Le Service Ambulant de Premiers Secours Musicaux is a production of Belluard Bollwerk International realised thanks to the  Canton de Fribourg encouragement to culture.
With the support of: Pour-cent culturel Migros, Ambassade du Royaume des Pays-Bas, Österreichisches Kulturforum, La Fonderie.
Service Ambulant de Premiers Secours Musicaux is a project of the contest 2011 <Hope>.