ALEXIS O'HARA
(Montréal)
THE SORROW SPONGE
 
Performance & music - Home made
Ville de Fribourg | Performance
Saturday 25.6. | GRAND-RUE,MARCHÉ | 09:00-13:00
in case of rain: BCU, Rue Joseph-Piller 7
Sunday 26.6. | GUINZET | 14:00–18:00
in case of rain: Ancienne Gare
Wednesday 29.6. | PEROLLES CENTER | 14:00–18:00
on the first floor
Friday 1.7. | SCHÖNBERG,BELLEVUE| 14:00–18:00
in case of rain: Café Belvédère
Language: English & français
Free

Ancienne Gare - Nouveau Monde | Concert / Finale Performance
Saturday 2.7.  20:00
CHF 10.-
reservations
belluard [dot] ch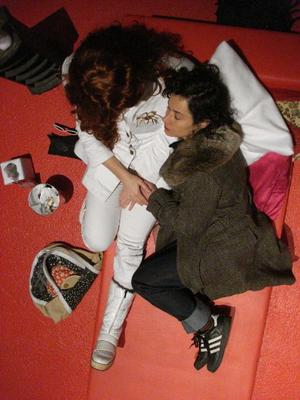 © Miriam Ginestier
You are invited to lay your head on the ample and inviting shoulders of The Sorrow Sponge, unburdening yourself at will. You are encouraged to speak, to cite your worries, fears, anxieties or, perhaps, the lack thereof. This participative live installation generates audio material for a Live performance to be presented after several days of encounters on the streets of Fribourg.
Costume:: Geneviève Paquette, Mike Duemo & Alexis O'Hara; with: Alexis O'Hara & Jordan Arsenault
With the support of: Pour-cent culturel Migros, Conseil des arts et des lettres du Québec.
The Sorrow Sponge is a project of the contest 2011 <Hope>.