FORCED

ENTERTAINMENT(Sheffield)
 
TOMORROW'S PARTIES
 
Theater -  World Premiere
Belluard
Friday 24.6. 22:00, followed by DJ FETT
Saturday 25.6. 22:00, followed by DJ BREAKPLUS
Language: English, with french subtitles
CHF 20.-/ 15.-
reservations
belluard [dot] ch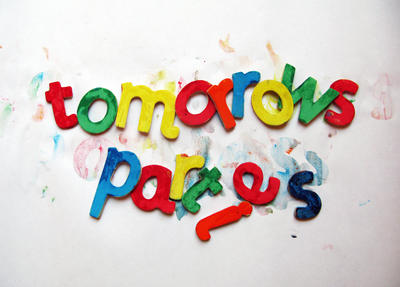 Photo © Tim Etchells
Forced Entertainment's latest performance explores ideas and clichés of hope. Writing and collecting scenarios of the future as well as small narratives concerning optimism and despair, the company explore the speculative nature of anticipation and the myriad possibilities the future holds in store. Tomorrow's Parties draws on the clichés of utopian and dystopian futures, the optimistic stories we tell ourselves and on the pleasures of invention that arise as the work twists and turns in performance. From these conjectures, day dreams and gripping but well-worn narratives the piece will move out in different directions to other kinds of speculations – the realistic, the personal and the evidently fantastical. Tomorrow's Parties  is Forced Entertainment in intimate and comical mode - a playful, poignant and at times delirious look forwards to futures both possible and impossible.
Since forming the company in 1984, the six core members of the group have sustained a unique artistic partnership for quarter of a century, confirming their position as trailblazers in contemporary theatre. The company's substantial canon of work reflects an interest in the mechanics of performance, the role of the audience and the machinations of contemporary urban life.  The work is distinctive and provocative, delighting in disrupting the conventions of theatre and the expectations of audiences. Forced Entertainment's trademark collaborative process – devising work as a group through improvisation, experimentation and debate – has made them pioneers of British avant-garde theatre and earned them an international reputation.
www.forcedentertainment.com

Concept: Robin Arthur, Tim Etchells, Richard Lowdon, Claire Marshall, Cathy Naden, Robin Arthur and Terry O'Connor; with : Forced Entertainment; direction : Tim Etchells; design: Richard Lowdon; production : Ray Rennie, Francis Stevenson.
Tomorrow's Parties is a production of Belluard Bollwerk International realised thanks to the  Canton de Fribourg encouragement to culture.
A coproduction with : BIT Teatergarasjen (Bergen), Internationales Sommerfestival (Hamburg), Kaaitheater (Brussels), Künstlerhaus Mousonturm (Frankfurt), Theaterhaus Gessnerallee (Zurich), Sheffield City Council.
With the support of: Arts Council England, Stanley Thomas Johnson Foundation.