PATRICK BERNIER

& OLIVE MARTIN (Nantes)
 
X et Y c. France...
Plaidoirie pour une jurisprudence
Performance - Swiss Premiere
EXTRA MUROS – Meeting place: Belluard
Friday 1.7.   20:00 
Saturday  2.7.   20:00
Language: français & deutsche Simultanübersetzung
10.- CHF
reservations
belluard [dot] ch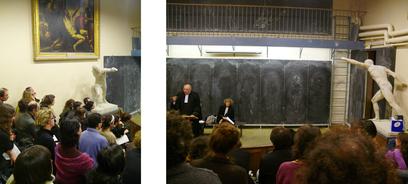 © Cédric Schönwald
In the performance X and Y v. France: The Case for a Legal Precedent two lawyers adress imaginary judges in order to reverse the state decision to deport immigrant X, whom they represent, from France. Their defence is that X is the author and the bearer of an intangible, work-in-process created in collaboration with the European artist Y.
 
www.plaidoiriepourunejurisprudence.net
A project of: Patrick Bernier, Olive Martin; with: Sébastien Canevet, Sylvia Preuss-Laussinotte; simultaneous translation : Elias Moussa; a production of: Les Laboratoires d'Aubervilliers 2007 with the support of: Conseil Général de Seine-Saint-Denis.
Presentation at the Belluard Festival with the support of: Ambassade de France à Berne, Institut français.
Thanks to: Service des Bâtiments de la Ville de Fribourg.